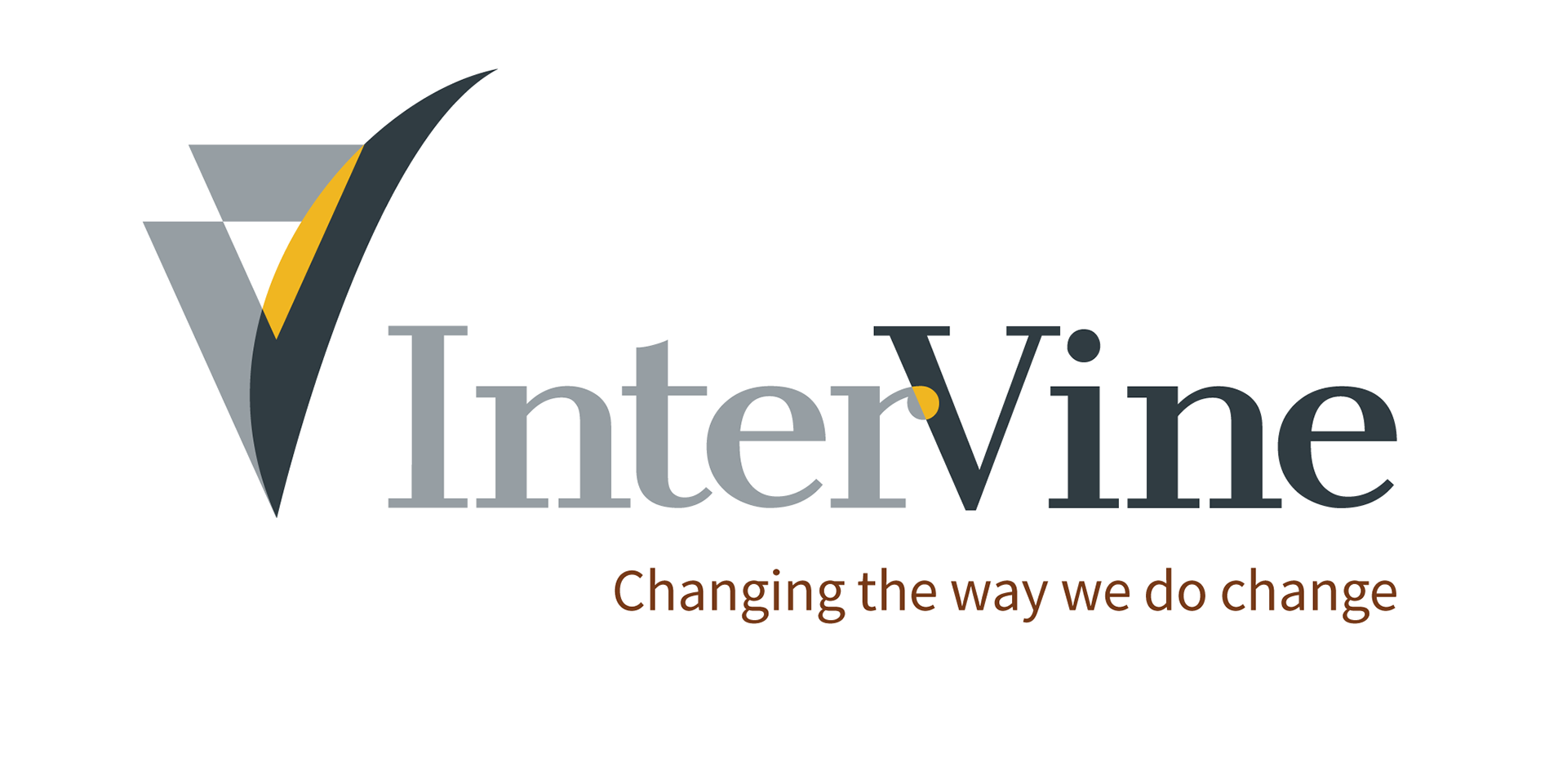 AIGA Branded  |  Brand Identity |  Case Study

Final Takeaway: 
I put this at the top because I am fully aware that, 

most likely

, you will not read everything I have written out. I get it. However! I wanted to include the process to show that there was a lot of intention and reasoning behind each decision we made while building this brand experience. That's it. There! Now you can feel free to read about my thought process, or simply appreciate the work.
My Contribution
General
—
Project Management   |  Conceptual Development |  Art Direction
Specific
—
Typographic system  |  Wordmark  |  Color Palette  |   Implementation

Problem
Create a brand identity for a Social Venture Team in 12 hours.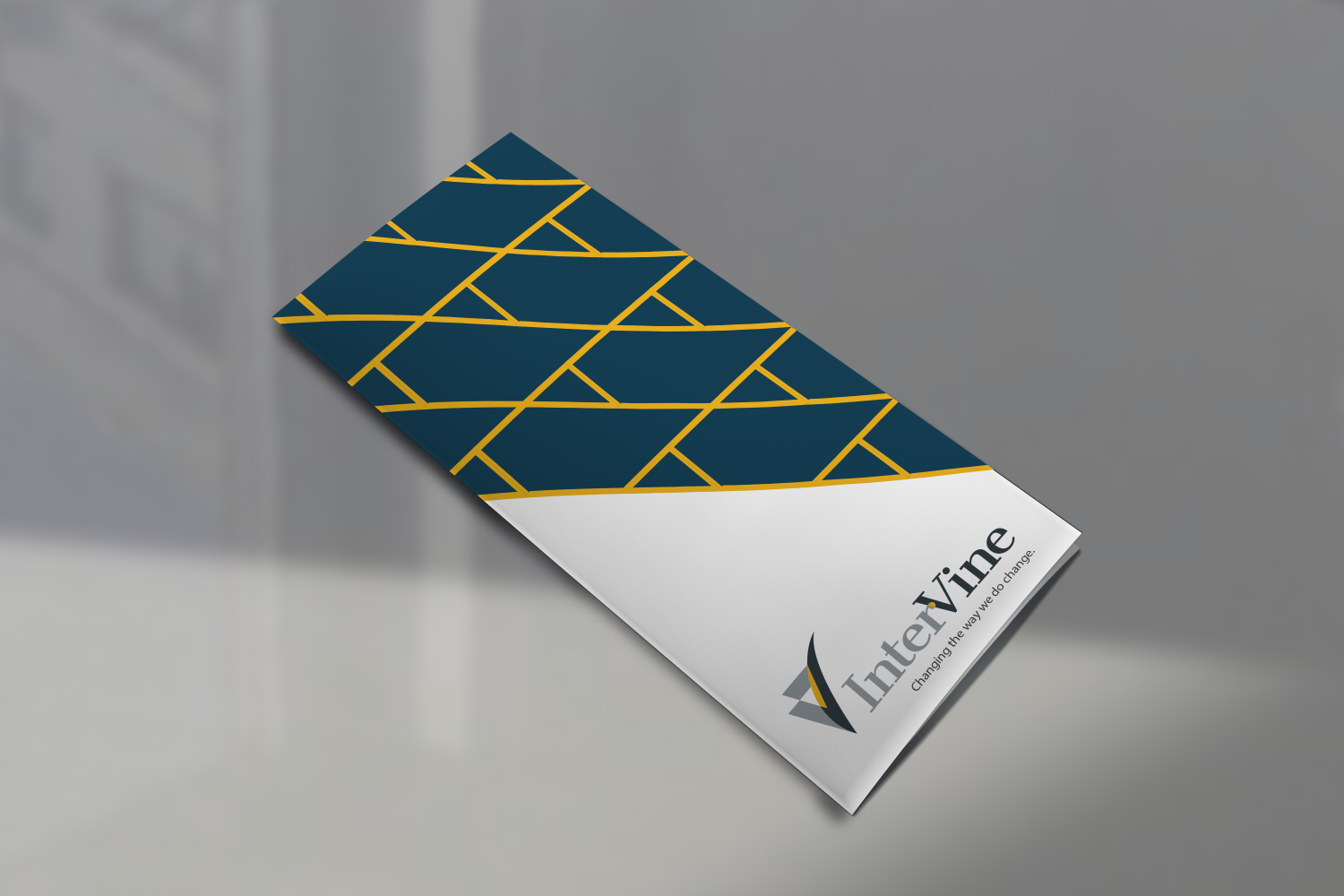 Concept
Develop a brand identity that reflects InterVine's role of connecting two different sectors of business: for-profit and non-profit.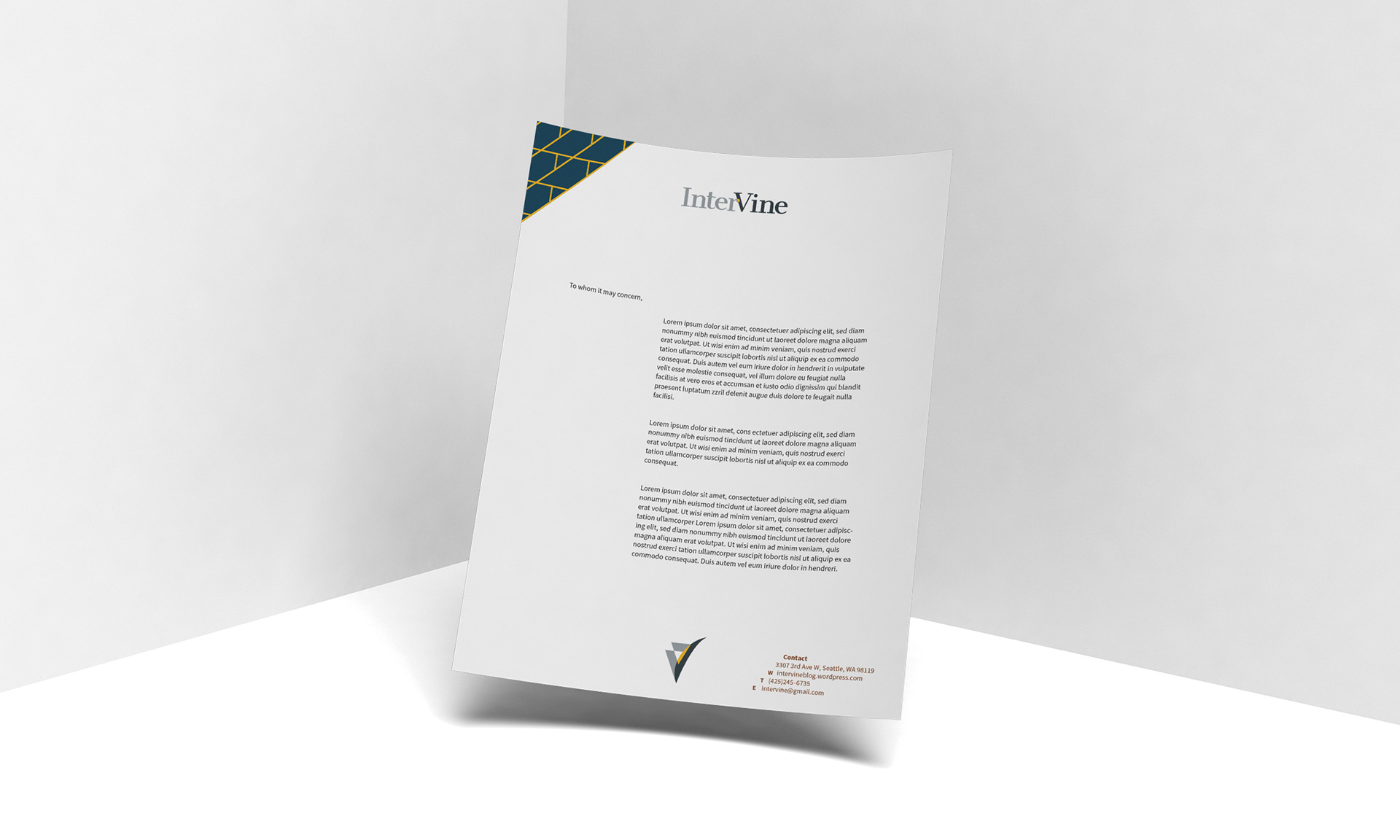 Team
Social Venture Team
—  Rachel Long  |  Danielle Meier |  Ana Robin
Design Team
—  Jamison Franzen  |  Seth Campos |  Julienne Rychner  |  Johanna Chen
This project was completed over the course of 12 hours co-led by myself and in collaboration with fellow senior Visual Communication student, Seth Campos. At the end of the event, we presented the final product to other teams at Seattle Pacific University.
Process 
• Hours 1-3
—
 Researching, concepting, and fully developing the needs, experience, and scope of InterVine. 
• Hours 3-9
 — Designing our assets including a name, logo, typographic system, color palette, and unique pattern as a collaborative team of four designers. 
• Hours 9-11
 — Developing an informational brochure, business cards, and letterhead that implemented the newly developed assets of InterVine. 
• Hours 12
 — Presentation of work to other Branded participants.

Intended Audience
General
— 

InterVine's intended audiences can be broken up into two segments for their internal market: non-profit organizations and for-profit business. This dynamic created a particularly difficult visual dynamic to cope with due to the large diversity across the target so we knew we needed to narrow it down.
Specific
—
Small-medium sized for-profit businesses who are financially capable of making charitable in-kind donations to non-profit organizations.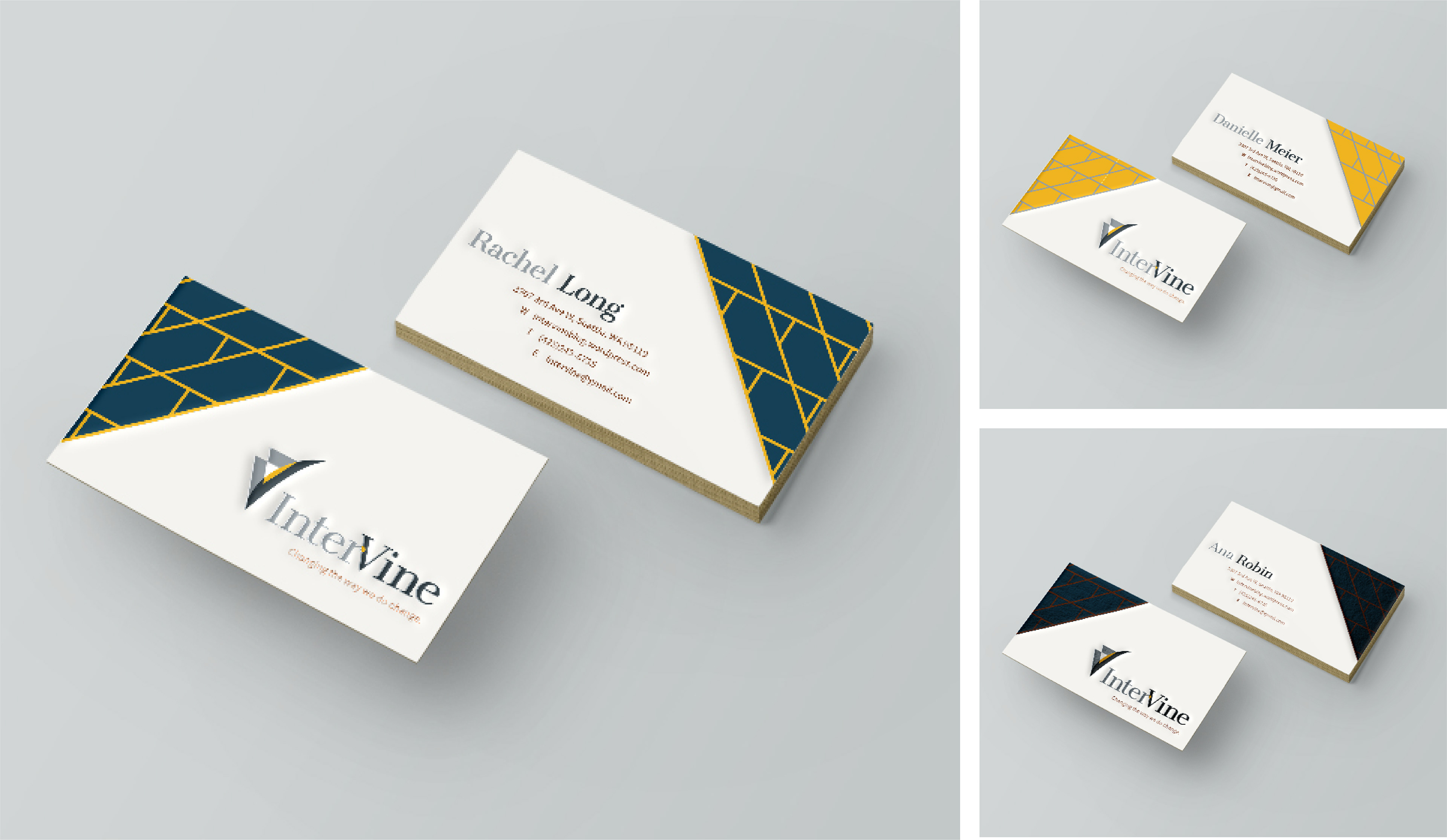 CantanaOne become the face of InterVine because of it's ability to create a feeling of stability and reliability. The high contrast establishes trustworthiness and confidence. While the unique combination of squared off slab-serifs that are present in Didot along with big fluffy ball terminals that more akin to Bodoni became a perfect metaphor for InterVine's goal of connecting two different sectors of business.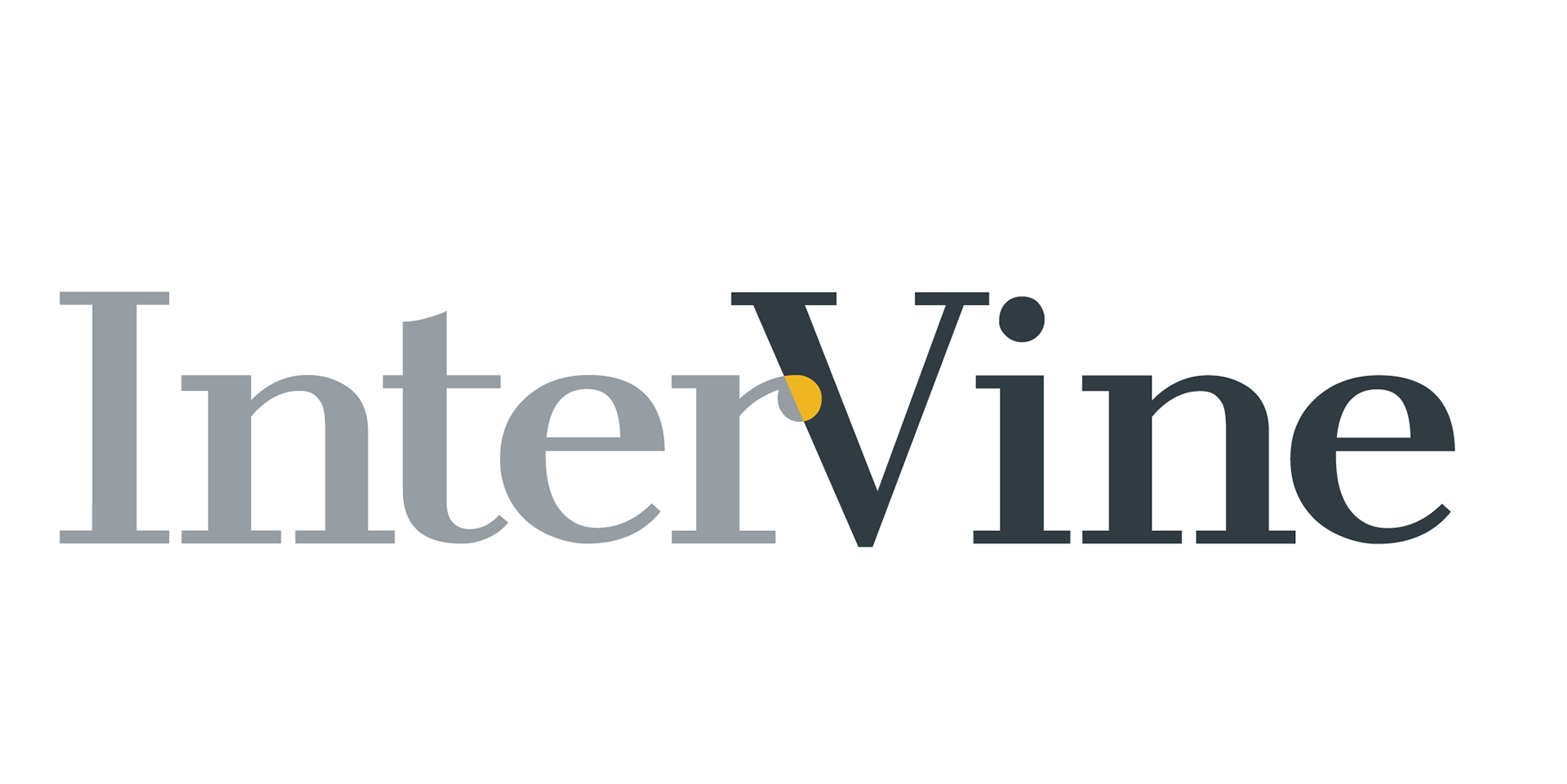 This typographic relationship is highlighted right at the center of the wordmark where the terminal of the "r" drops right over top of the harsh diagonal of the "V" creating a unique shape that perfectly highlights where InterVine resides. The genius continues as this mark not only acts as a visual metaphor for both the name and mission, it also solved the issue they were encountering with mispronunciation.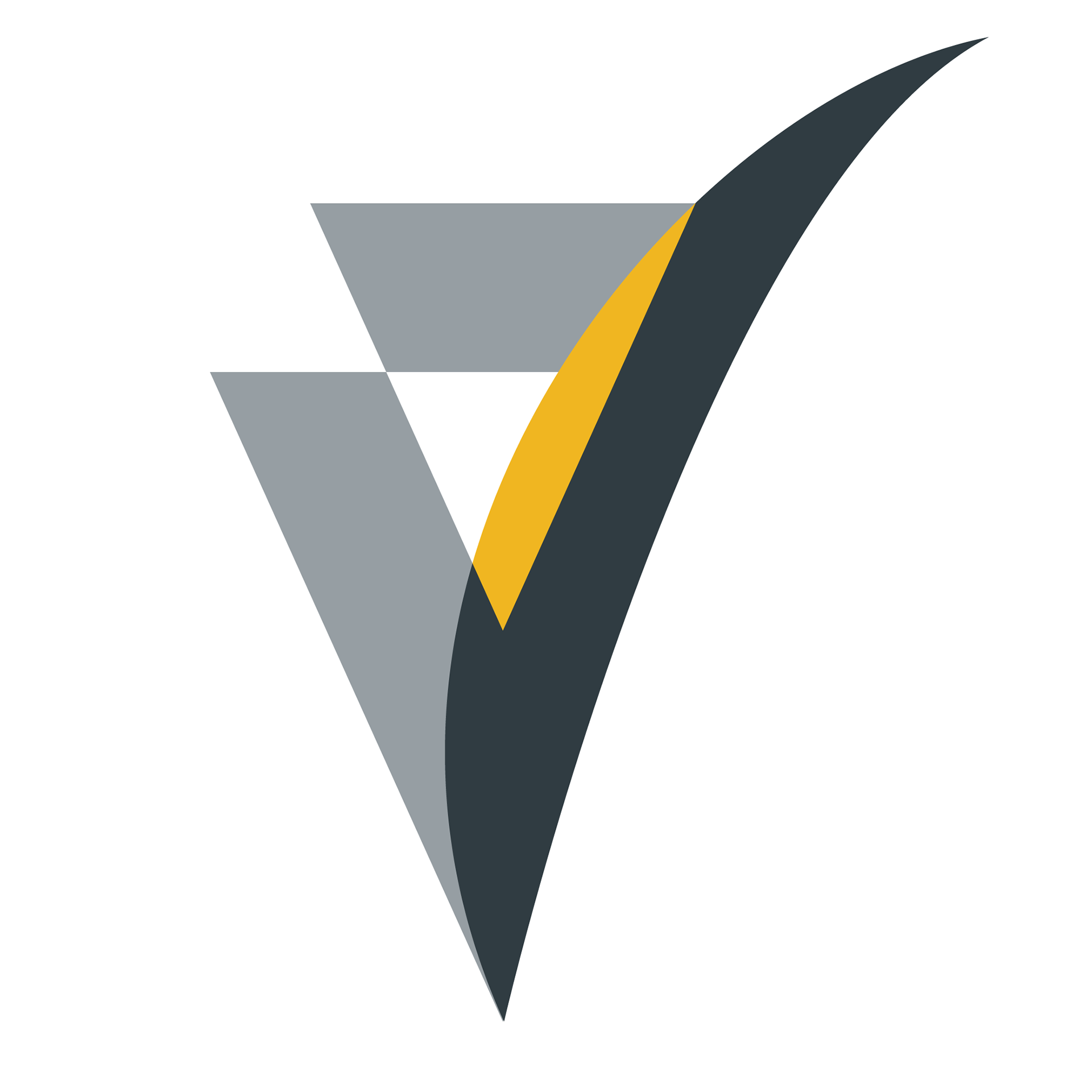 The abstract V mark was the result of a collaborative process between all four designers. We made a conscience effort to avoid vine like imagery as that was already being though the name (not an easy concept for the Social Venture Team to concede to). So, the two different business sectors are represented with the structured geometric shapes representing the for-profit and the flowing organic shape representing the non-profit.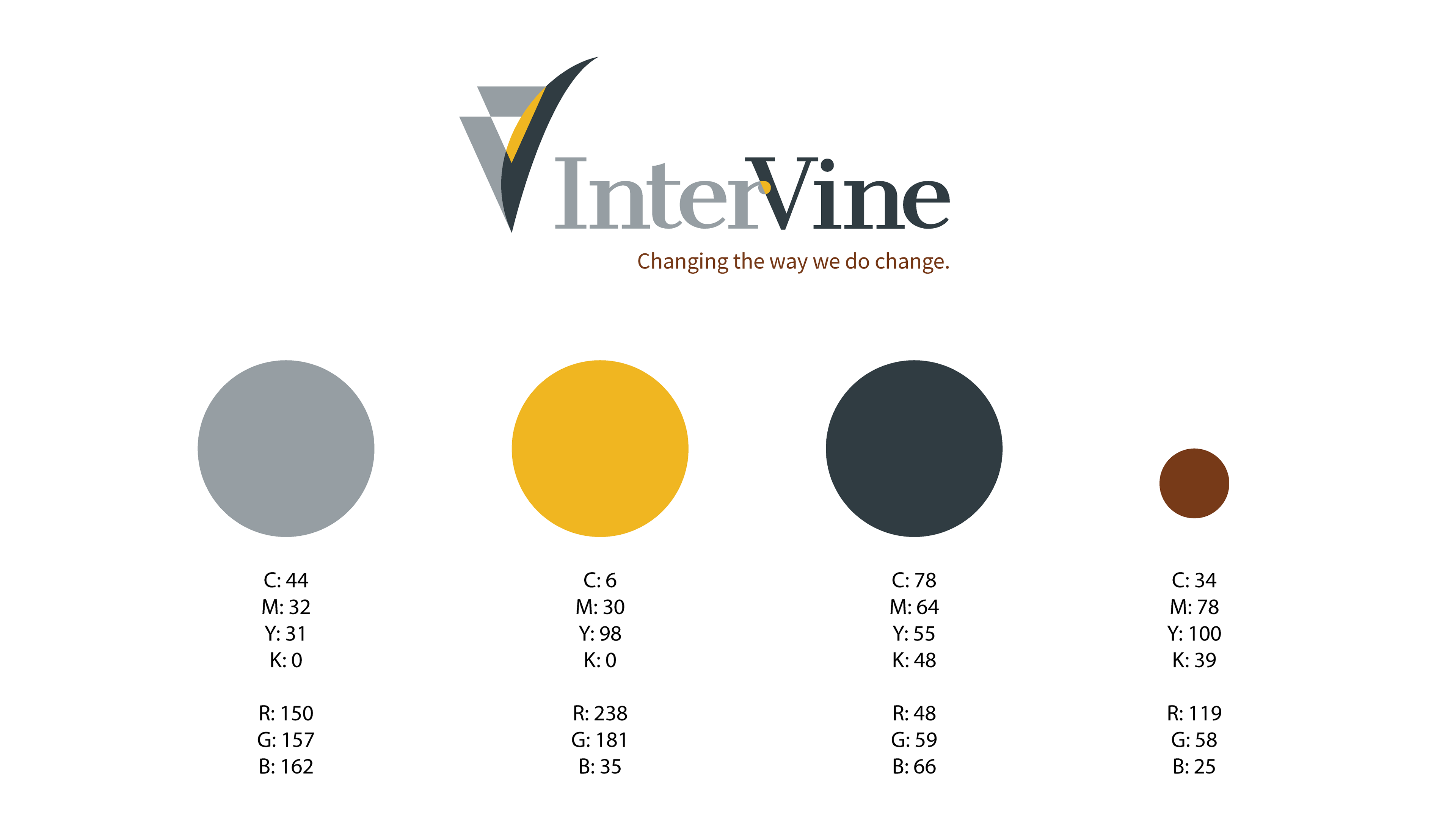 One fear we had with the name was that the audience would confuse InterVine to be limited to environmental work. We used color to steer conceptions away from that by avoiding ones that are specifically associated with nature. The deep blue and grey allow the yellow to bounce while also bringing stability to this otherwise precarious form.